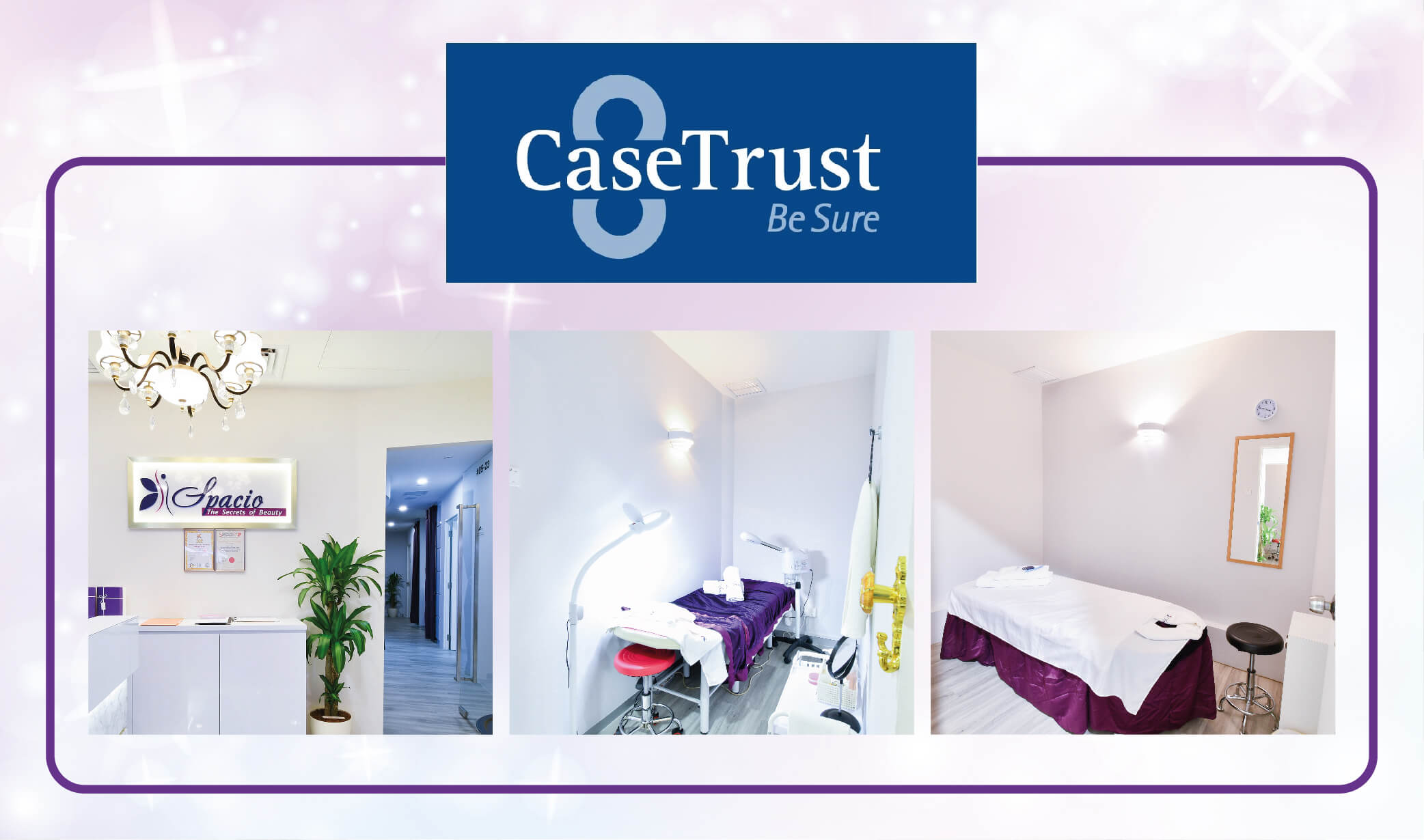 SPACIO is now CASETRUST Accredited
Dear Customers of Spacio TCM Wellness,
Thank you for your patronage.
We would like to inform you that we are CaseTrust Accredited, and adhere strictly to their policies.
The policies are as follows;
1. PROTECTION FOR PREPAYMENT
Consumers who made prepayment can be assured that the value of their un-utilized balance will be protected and covered with an approved insurance provider.
2. 5-DAY COOLING-OFF PERIOD
Consumers enjoy a cooling-off period of 5 working days to seek a full refund of payments made if they do not wish to proceed with the services offered. Consumers who has already consumed portion of the pre-paid package will be accorded a refund after deducting the regular price of the prepaid package treatment that the consumer has already consumed. The balance will be returned to the consumer within 30 days.
3. STRESS-FREE TREATMENT
We are committed not to engage in any form of selling once the consumer enters the treatment room. However, we will accept the consumers' add-on services or product purchases upon their request.
4. CLEAR FEE POLICIES
We will always honor all our prices that were quoted at the time of booking, even if the prices were subsequently adjusted for inflation and other cost.
All prices on our products and services are net prices and do not include additional charges for Add-ons and other services. Please consult our price list for separate charges for Add-ons and other services.
Where applicable, any charge due will be rounded up to the nearest five cents.
5. WELL-DEFINED BUSINESS PRACTICES AND SYSTEMS
Besides good business practices and systems, there should be a redress system with proper and clearly defined dispute resolution mechanisms for the business and customers.
For any disputes or enquiries, you may email to cc@spacio.sg
6. WELL-TRAINED PERSONNEL
The business must ensure that it has trained sales staff who do not practice unethical sales tactics and are able to provide good customer service.
Our staffs are fully-trained and certified and we conduct regular trainings throughout the year to upgrade their skills.
7. Confidentiality of Consumer Data
We will make all reasonable efforts to ensure that our consumers' personal information will be kept in a safe and secure manner and that no unauthorized access to the information will be allowed. Personal information provided to us will not be used for any purpose except for treatment purpose, and will not be divulged to any external party.
---
For any enquiries, you may email us at cc@spacio.sg and we will respond to you within 3 working days.
Thank you.