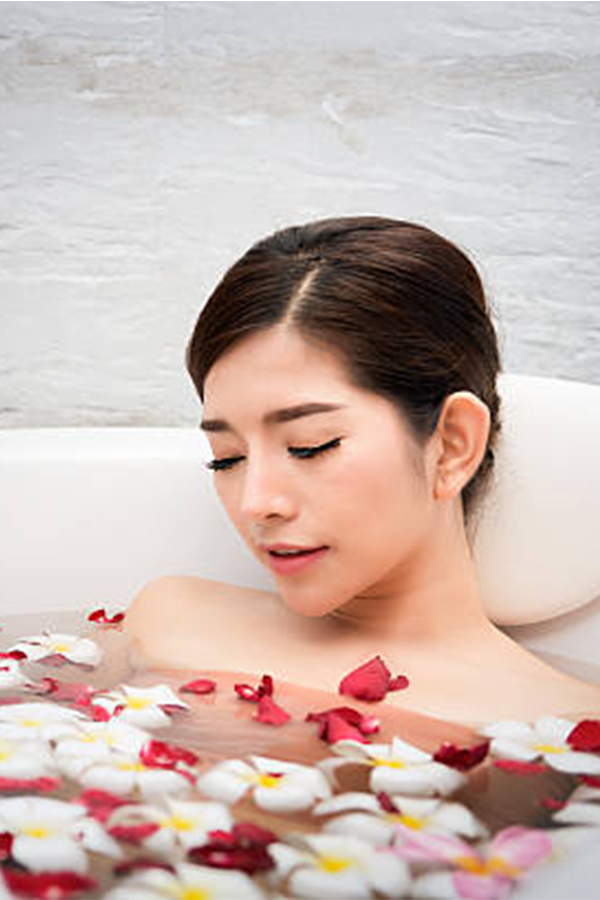 Herbal baths are layered with both fresh and dried natural elements, were used to fight colds, reduce aches and pains, heal wounds, lift bad moods and soothe everything from uterine cancers to hemorrhoids to irritated skin.
Ingredients and effect of herbal bath tea:
Milky Oats: The rich and hydrating milky nature of oats is welcome relief for soothing itchy skin conditions such as poison ivy, chicken pox, or other stress-related skin conditions.
Chamomile: We often think of chamomile as a relaxing and calming tea, but soaking in chamomile has similar effects on the skin, meaning it soothes irritated and sensitive skin.
It helps to reduce redness and is antibacterial, helping to minimize scars and marks. Literature from the 18th century recommended bathing in chamomile to ease pimples and reduce inflammation of the skin.
Rose Petals: Rose petals symbolize luxury and elevate the bath with their visual elements and fragrance.
Calendula: Calendula is a super herb, loaded with benefits for the skin. It promotes supple, nourished skin, provides protection against free radicals, which can promote signs of premature aging, and promotes wound healing. It's even been shown to decrease healing time for C-section scars. It also helps plump the skin for the appearance of firmer skin. Super herb! Read more about calendula on our blog.
Lavender: Studies have shown that lavender can improve sleep, reduce anxiety, and provide calming effects. The steam from a hot bath makes it easy to inhale the lavender fragrance. Lavender has natural antimicrobial and anti-bacterial properties that also promote hygiene, which is why we also use lavender in our bath soaps.
Cornflower: Great for soothing aching muscles after a tough workout or muscle strain.